With IoT Continuum, gain efficiency by capitalising on what has been achieved in your various development cycles.
Thus, the components and the design used from the start (PoC - Proof of Concept) are scalable and compatible with the industrial deployment phase. A redesign is no longer needed during the Proof of Value or Deployment & Scale phases.
From Ideation to Industrialization

If you want to know more
A holistic approach
IoT Continuum is a holistic approach to connectivity, devices and manufacturing to provide you with the most appropriate support and services for your industrial IoT needs.
For companies embarking on a digital transformation journey and developing industrial IoT solutions, the challenges are many and varied: organisational, budgetary, technical, to name a few. This observation is valid regardless of the sector of activity.
IoT Continuum is an initiative that has been set up by four different enterprises that share the same convictions. They have decided to work together to address these difficulties in developing and scaling IoT use cases, and to ensure the success of any company that decides to launch new industrial IoT systems. It leverages the know-how, complementarity and skills of these four major players in the Internet of Things, namely Orange, Sierra Wireless, Lacroix and STMicroelectronics. The combination of these four partners through a single point of contact enables us to provide the best possible support to each company wishing to launch a new IoT project, to accelerate the marketing of the connected object and, by reducing costs, to guarantee their return on investment. IoT Continuum is a kind of "VIP access" to the main players in the IoT ecosystem: you are assured of support adapted to your project while benefiting from a privileged environment.
A turnkey solution
Pre-integrated packages, including hardware and software (sensors and microcontrollers for STMicroelectronics and Sierra Wireless, integrated cellular modules from LPWA to 5G and gateways/routers), connectivity solutions and IoT services worldwide (Orange), electronic design and industrial manufacturing services with a new factory in France (LACROIX) are provided to simplify the development of new IoT projects, reduce their lead times and implementation costs. Prices and services are optimised and exclusive to the IoT Continuum partnership programme between Orange, LACROIX, Sierra Wireless and STMicroelectronics. This system ensures full interoperability between STMicroelectronics components, the Sierra Wireless connectivity modules and the Orange cellular network so you can benefit from the best quality at the best price.
Three successive phases
A 3-step process ("Start, Prove, Deploy and Scale") has been put in place to support enterprise IoT projects on cellular networks, from ideation to industrialisation, without having to link with multiple market players. For example, what is designed with the customer using the IoT Continuum development kit can be reused for subsequent phases, there is no need to redevelop. As the name suggests, IoT Continuum delivers a continuity proposition. You can be sure that your project will be deployed in record time in the field.
Support for all your needs
An IoT solution usually includes electronic equipment that collects several information via connected sensors and sends it to an IoT platform for processing. IoT Continuum supports you in the different areas:
- At the functional level: whether it is tracking, predictive maintenance or remote control, we are able to assist you if needed in the characterization of your IoT application
- For the selection and collection of relevant information from different sensors of the object (real-time communication, periodicity of data sending, points of attention for robustness, quality and manufacturability).
- For the choice and use of a cellular module with embedded LTE, LTE-M or even 5G connectivity, while paying close attention to power management issues - not only power consumption, but also peak currents which are a challenge for some battery technologies.
- For the implementation of the infrastructure needed to monitor and manage the devices via an IoT platform where the data used is available via the internet in a secure manner (device management, provisioning, security, dashboard...).
- For the provision of an easy-to-customise software environment to implement your domain specifics, relying on open-source resources.
Finally, even if, taken separately, one or the other of these domains may seem to be obvious, the real success of an IoT project lies in the ability to encompass all these technological challenges in a structured, pre-validated approach adapted to the use case: The value of IoT Continuum lies in the combination of expertise provided by Orange, Sierra Wireless, LACROIX and STMicroelectronics, guaranteeing that large-scale projects can be deployed efficiently and intelligently, with greatly reduced cost, planning and operational risks.
Round table "IoT solutions serving innovation with a positive impact"
Round table on Thursday 15 September 2022 at the SiDO in Lyon during which Tiko Services (a subsidiary of the Engie Group) shares its experience with IoT Continuum partners regarding the development and deployment of an innovative and large-scale IoT solution for energy efficiency.
Press Release
PR of June 28, 2021: launch of IoT Continuum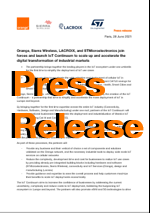 PR of September 15, 2022: Orange and its partners support tiko in the development of energy consumption optimization solutions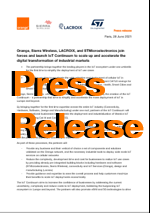 Get started...
If you want to develop your own IoT project, you will soon be able to do so with the help of our Continuum IoT development kit that we are currently finalising. This kit is based on a STMicroelectronics STM32U585 microcontroller, a Sierra Wireless HL7812 connectivity module, a gyroscope, an accelerometer, a temperature sensor, a humidity sensor and a pressure sensor
If you are interested in this kit, please let us know and ask any questions you may have via the contact link below.