At the end of 2021, there were more than 12.3 billion connected devices in the world (IoT Analytics). By 2025, the IoT market is expected to be worth $1,500 billion, i.e., ten times its value in 2018 (UNCTAD report, 2021). The deployment of different forms of technology allowing IoT connectivity is therefore of paramount importance to meet the expectations of companies and users. Here you will find out what IoT connectivity is and our various solutions to make your IoT project a success.
Contents:
What is IoT connectivity?
What are the criteria for choosing IoT connectivity?
Technology for specific types of usage
Where to process and store data from connected devices
How to manage fleets
How to connect connected devices
Our catalog of connected devices and sensors
What is IoT connectivity?
The term "IoT connectivity" defines the connection between all points in the IoT ecosystem such as sensors, gateways, routers, applications, platforms, and other systems. "IoT Connectivity" also refers to the various network solutions to choose from based on three factors:

energy consumption
range
consumption/bandwidth requirement
However, concessions must be made, because it is difficult to be at the top at all levels, while opting for the best possible choice. These IoT connectivity options can be adapted to IoT projects and their requirements, and priority can be given to one of these three factors.
What are the criteria for choosing IoT connectivity?
Not all IoT connectivity options are created equal. We can compare 4G LTE Cat 4 connectivity with 5G connectivity and other LoRa connectivity, for example, to determine the strengths and weaknesses of each based on use cases. However, depending on the specific needs of an IoT project, these options are not equal. It is therefore important first to assess your IoT needs, based on criteria, before choosing an IoT connectivity solution.
Energy consumption
Energy consumption is certainly the most important criterion to consider for most IoT devices. To optimize manufacturing cost and return on investment, IoT devices must be as energy efficient as possible. Therefore, the type of usage, device location, and battery size determine your choice of IoT connectivity, as some networks consume significantly more than others.
Bandwidth capacity
In computing, bandwidth is the capacity of an electronic communication channel to transmit data. The higher the capacity, the greater the communication speed, because more data travels faster. Note that most IoT applications only need to transmit small amounts of data. However, each new system tends to become more demanding than the previous one due to increasing complexity.
The choice of bandwidth capacity depends entirely on the nature of your IoT project. You can then choose between cellular networks (2G/3G, 4G, 5G, LTE-M, NB IoT, or LPWAN networks (Low Power Wide Area Network).
Range and coverage
Reminder:
Range defines the maximum distance between a transmitter and a receiver to establish a connection.
A network's coverage rate, or simply coverage, measures the availability of a network for a given population or location.
Some devices operate with a short range, such as Bluetooth connections in a car for example. Other applications need technology with greater range; e.g., a motorway toll collection requiring an exchange of data over several meters in order to improve service.
It is true that if a device has a large range, it can also operate at a smaller one, and that it is better to think big than small, but too long a range can be a breach of data security (e.g., contactless payment bank cards), and can consume too much energy.
Assess your need for range and coverage when choosing the most suitable network and communication protocol for your IoT project.
Fixed or mobile connected device
Another important point to take into account when choosing your IoT connectivity is whether your IoT project's connected device is fixed or mobile. To cite examples, a connected car requires a network available everywhere, unlike predictive maintenance in a production unit for which a local network is sufficient.
Today, there are many types of communication technology.
Are you thinking of a type of usage and wondering what connectivity it will require?
A technology for each use: network solutions on the market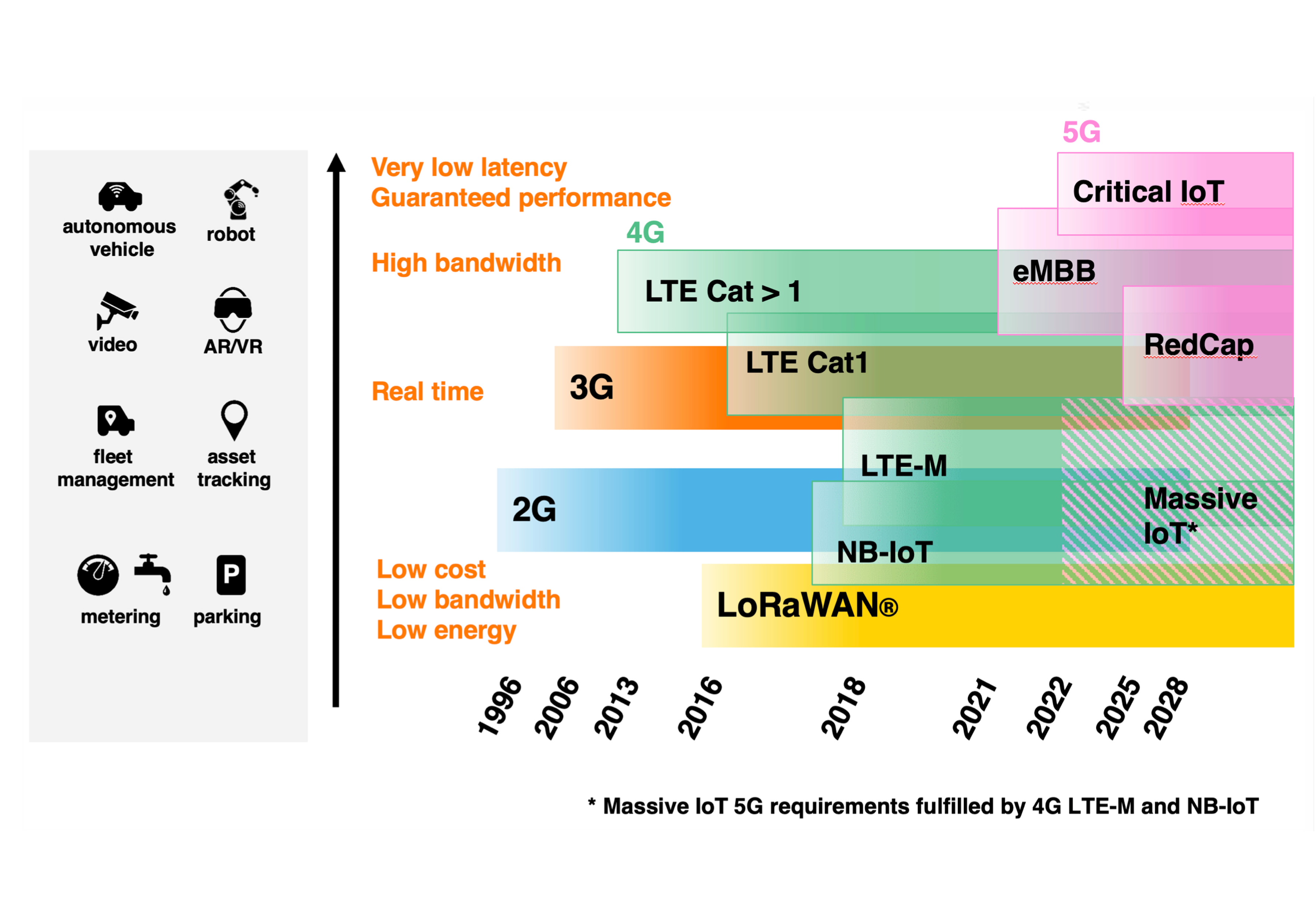 The connectivity of the IoT device is ensured by a radio frequency antenna allowing data to be communicated over IoT networks. Cellular networks are certainly the most commonly used to handle IoT projects, but there are also other types. Here are some of the other most commonly used ones.
2G/3G
Still currently used by parking meters, among others, the ancestors of 4G will be shut down in the very near future to make way for 4G and the new 5G network, link to press release. In France, the 2G and 3G networks will be switched off in 2026.
4G LTE Cat 1
4G LTE Cat 1 connectivity, sometimes referred to as 4G Cat 1, is specifically designed for IoT Machine-to-Machine (M2M) applications. Its maximum downlink speed is 10 Mbit/s and the upstream is 5 Mbit/s.
4G LTE Cat M 1
4G LTE Cat M1 connectivity, also known as LTE-M, is an LTE connection designed for low power consumption. It is used for smart homes, smart watches, security alarms, etc. Its transmission rates are 100 to 150 kbit/s in both directions.
NBIoT
NB-IoT connectivity appeared at the same time as 4G LTE Cat M. Both meet the needs of the medium and low speed IoT market. The NB-IoT is used in particular for smart parking lots, smart public lighting, and in many other applications requiring reduced bandwidth.
5G connectivity is the next generation of cellular networks. It is being deployed in many countries and it will manage the critical aspects of the Internet of Things and reduce latency to the point of being able to react in real time.
If you are wondering about 5G in the context of the IoT, you can read the article on the topic.
After checking 5G connectivity's suitability for your IoT project, take a look at our current range of 5G IoT B2B.
LoRa
LoRa (long-range) connectivity is a solution that allows the construction of networks with long-distance coverage and low consumption. The technology is only capable of transmitting small packets of data, but is said to be the most cost effective for most IoT projects.
SigFox
A connectivity service provider for the IoT market, SigFox offers a proprietary network solution useful for mobile devices with low data requirements: smart watches for example.
WiFi 6
Although it offers unpredictable reliability and short range, Wi-Fi is an ideal communication medium for fixed location devices with high data demands. The new WiFi 6 standard (IEEE 902.11ax) provides better coverage and performance as it is supported by OFDM technology, which 5G also uses. This new WiFi is the ideal companion for the IoT.
Satellite connectivity
The greatest range is undoubtedly provided by satellite internet. But this is not the only advantage. The objective of satellite connectivity is to complete the coverage of terrestrial networks, in particular to meet the connection needs of the Internet of Things.
Today Orange and Kinéis are partners that offer customers the opportunity to test Kinéis satellite services in addition to terrestrial networks.
For more information, read the article.
We also invite you to consult our free white papers to learn more about IoT connectivity, protocols, security, and needs and LPWA connectivity.
Are you looking for connected devices? If you are looking for the connected device that best suits your needs, take a look at our catalog.
Our catalogue of connected devices and sensors
Our catalogue includes a complete list of connected devices already built and ready to use. Most of these connected devices are labeled Orange: Orange Assessed, Orange Connected, or Orange Approved. They are also classified in our catalog by geographical sector and by technology.
Are you designing your own connected device?
We also support you in the development of your own IoT projects. With our partner IoT service companies, Sierra Wireless and Lacroix, we offer the IoT Continuum approach. You may find that the solutions already designed do not exactly match the services you want to offer. With Orange's IoT Continuum, you gain efficiency by capitalizing on your previous development cycles.
Where to process and store data from connected devices
The large amount of data from connected devices must not only be processed; above all, it must be stored in safe and easily accessible places to reap all the benefits. The Cloud is the best storage solution when taking on IoT projects, as the company avoids investing in expensive dedicated storage structures. There are many data processing and storage solutions and market players are tapping into their ingenuity, particularly with edge computing: a method of optimizing cloud computing that allows data to be processed as close as possible to the source. By using a closer access point, services come out faster and more reliable.
How to manage fleets
With the proliferation of digital devices and their content, the mission of managing a fleet of mobile devices is becoming complicated. The best thing to do is to set up a device management system to manage and secure a fleet of devices. This way you can tackle the challenges of an IoT project with quality device management.
Have any questions? They are just as important to you as they are to us.